2. Starting PEN for the first time

The first time you start PEN, it will detect you have not yet entered any mail accounts to check periodically. A pop-up window will appear asking you if you would like to start the "Add New Account Wizard". Click "Yes" to add an account.






The first thing the Wizard will ask, is what kind of email account this is. If this is an ordinary POP3 account (like the one you got from your ISP), you can leave this setting at POP3. If this is a web-based free email account like Hotmail, MSN, Yahoo, Lycos, or Mail.com then choose the appropriate account type.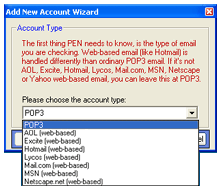 Next, the Wizard will ask you to name this account. Enter a name for the account, like "Private Email", or "Business Email". Also, enter your email address here (POP3 only). This information is used for your convenience only so it's not important whether the email address is actually valid or not. Click "Next" when done.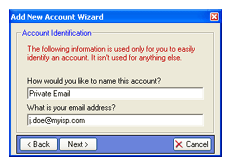 If you had chosen POP3 as account type then in the next screen enter the address of the mail server your mailbox resides on. You should have gotten this information from your ISP. It's usually something like "mail.myisp.com", or "pop3.myisp.com". You also need to enter the "port" for this server. If you are unsure what the port is, you can leave this at "110". Click "Next" when done.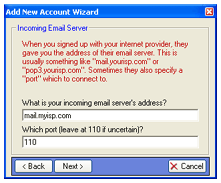 Now enter your username and password necessary for you to login to your mail box. This information was either provided to you by your ISP (POP3 account) or this is the username and password you had chosen when you created a webbased email account. Click "Next" when done.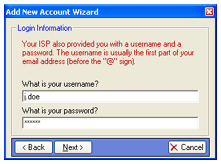 PEN now has enough information to create the account. The account will be created with the default settings; it will check for mail every 5 minutes (30 minutes for webbased accounts) and when new mail arrives the default Windows mail notification sound is played. To change these settings, see "Adding/Editing/Removing Accounts". Click "Save" to create the account.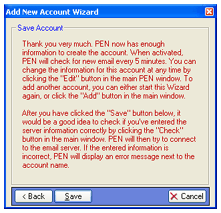 Prev
Index
Next