PEN is an Email Notifier for Windows 98/Me/2000/NT/XP written by me, Cliff Pennock. Hence the name. :)

If you are using Mozilla/Firefox©, Netscape™©, or -heaven forbid- Outlook™®©, then you are probably aware that you'll have to have these programs running to get notified of new incoming email.

PEN sits in your systray and periodically checks for new email. You can enter as many email accounts as you want. If PEN finds new mail in your mailbox, it will display a small non-intrusive pop-up window and play the sound of your choice (every account can have its own unique sound).






Besides ordinary POP3 email (and POP3 over SSL), PEN also supports IMAP, Hotmail, MSN, Excite, GMail, Netscape.net, AOL, Yahoo, Lycos and Mail.com web-based email!

When new mail arrives, you can preview the mail's subject lines, and even peek inside the message. If it turns out to be something you don't want (like spam) you can immediately remove it from your mail box.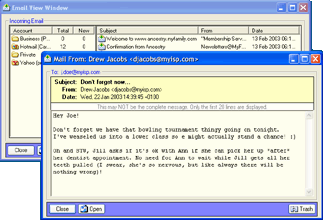 Adding more email accounts is easy. You can either start the "Add New Account Wizard", or add an account using the Account Window. In the Account Window you can specify how often mail should be checked and which sound should be played when new email arrives. I've even added a few sounds for you to choose from!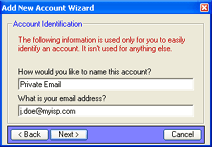 You can download a 30-day trial version by clicking on the "Download" button on the left. If you decide to keep it after 30 days, you can purchase an activation key for only US$5 (yes, five dollars)!!!

Download it now, see if you like it!